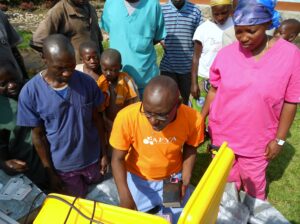 On this Thanksgiving, we thank health care workers around the world for their courageous efforts to provide skilled obstetric care to childbearing women and their families under the most adverse conditions. We are grateful for the opportunity to  help them deliver safer care and save lives.  Here are some photos and recent words from the clinicians whose lives we have touched this year through our international Solar Suitcase program.
From Betty Gebrian at the Haitian Health Foundation:
"The newly designed solar suitcase is fabulous – strong and sturdy! The resident village health worker has received the case…and the village people are thrilled!"  This suitcase will be used by traditional birth attendants, village health workers, and mothers' groups for obstetric and pediatric care. "You are bringing light to the villages of Haiti."
From Dr. Mary Coleman, headed to a children's hospital in Uganda this weekend with a solar suitcase to aid pediatric care: "The hospital staff jumped for joy when they learned that I was bringing the solar suitcase. When the heart gives, the hands open."
From Somalia, where Intisar Ali is teaching mothers about reproductive health and bringing light to two health centers to reduce maternal mortality: "Thanks again and again for the solar suitcase. We use both suitcases daily. When I see the faces of the birth attendants, they feel like there are people who care about them. Before they felt like the can't do anything. Now they feel like they can do anything!'
From Liberia, where we partnered with World Health Organization and the Liberian Institute of Biomedical Research (LIBR). Dr. Fatorma Bolay, director of the LIBR tells us: "The Solar suitcase is going to revolutionalize health care delivery in developing countries. I will continue to advocate for support.  Thank you, I am very happy!
From Dr. Jacques Sebisaho, a physician who started a clinic in a remote island in East DR Congo. He received a solar suitcase this week in New York, and is traveling today with this "miraculous innovation" to the DR Congo: "Thank you so much for this gift of life. You have given the people of Idjwi hope. I don't even have words to express how I feel."
From our recent trip Nigeria, where we met dozens of midwives and doctors who have told us that health care was transformed by solar power. Aminu Abdullahi, a surgical nurse at a general hospital, had this to say: "When you brought out the suitcase in 2008, we thought you were bringing medical instruments. We had no idea you were bringing light. Thank you for changing and touching the lives of so many people in this country and around the world."
And from the staff at WE CARE Solar:Thank you so much for supporting our work. This project would never have been possible without the generosity of individuals and families who have donated their time, their talents, their resources, and their money. You have shared our dream of improving health services for mothers and their families, and have let countless mothers and health providers know that they no longer need to suffer in darkness during childbirth.